Support for the victims of Australia's Wildfire
The ongoing wildfire in Australia is described as one of the worst in Australia's history, taking the lives of 24 people and destroying many homes. Homes where a wide variety of animals used to recide in their natural habitat, with sadly many getting injured or losing their life.
---
Wires Wildlife Rescue is a non-profit organisation located in New South Wales, the state that has been hit the hardest. They are the largest rescue- and rehabilitation charity in Australia and have more than 2500 volunteers, aiming to save animals and to provide the nessecery rehabilitation to get them back on their feet. Back to where they belong.
They already have been helping Australia's native wildlife for 3 decades,  currently being able to rescue animals 365 days a year. The majority of the funds is used to rescue wildlife, provide information and education to the community and provide training and support for volunteers.
Below a picture of Kenny, one of the saved koalas that receives care and rehabilitation!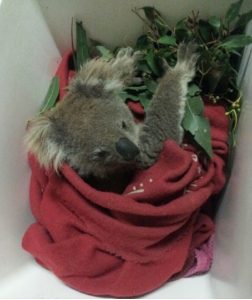 If you could miss a couple of VTHO, please consider to support Wires emergency fund and help them rescue & care for the innocent victims of the fire and drought.
I am aware of my responsibility and I'll obviously transfer everything we can collect to Wires. Proof will be provided in the Thorblock Telegram channel. Lastly, I contacted Wires and they are aware of this and allowed me to proceed.
---
Update:
Today, Tuesday the 7th of January 2020 and 2 days after we started, we reached our goal of 500000 VTHO! Below is a picture of the donation via PayPal, following the following conversion rates: 505000 VTHO = 278 USD = (x 0,89695) 249,32 EUR = (x 1,62283) 406 AUD.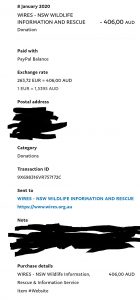 Many thanks to all of you for donating and promoting this great cause!